jeudi 8 mai 2008
Belgian Fries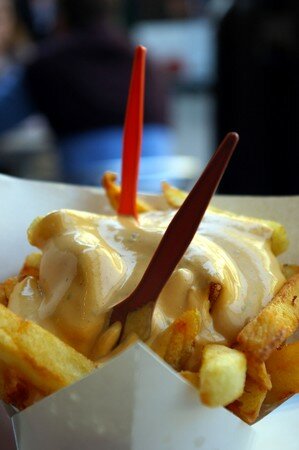 So guess where I am now?
Unexpectingly, I came back to Brussels a few days ago, incognito, it is bizarre not being a backpacker any longer (I cannot help myself but staring at backpackers here in Brussels and try to make the first eye contact, as it used to work, with no avail), to wear normal clothes (girls are rather naked here with their top and mini-skirt, what is the police doing???), to look for a flat, to be back (and to keep on going everywhere with a roll of toilet paper in the pocket and the money safety belt on the hips), after 5 unforgettable months on the road. Actually, my mind is very confused. The culture shock is too abrupt probably, my travel routine has collapsed, I am lost. Bamboozled.
Anyway, keep on following the blog, I might leave again, and in any event, I am still free, could turn into a backpack in my own country, and anyway, my camera is still active, almost having a life of its own!
Commentaires
Poster un commentaire